We are excited to announce that we have launched a new Murf application in the Canva App market space. Now, you can bring your presentations and creative projects to life with the help of your favorite voiceovers from Murf Studio.
Installing the application
To get started, simply head to Apps within Canva, search for Murf and connect the Murf app inside Canva with your existing Murf account or create a new account by clicking on the Connect button in the Murf Canva app.

If you already have a Murf account, just log in and choose the Workspace you want to connect to the Canva app.
The Voice Generation time (VGT) will be used up from the Workspace you choose. All new free accounts come with 10 minutes of complimentary VGT.
Unfortunately, free and basic users cannot access Pro Voices in Canva. However, they will still be able to generate the voiceover but will not be able to add it to Canva.
---
Now, let's dive into the exciting range of features offered in the Murf x Canva App.
Language Selection
Voice Options
Preview and Select Voices
Voice Style Customisation
Speed and Pitch Adjustments
Language Selection
You can select from a diverse array of supported languages to make sure that your voiceover matches the content of your presentation or video.
Voice Options
Choose from a wide selection of voices offered by Murf AI. Discover the voice that perfectly embodies your brand or the tone you wish to convey in your content.
Preview Voices and Select them
To preview and hear the voice, simply click on the play icon. If you want to select and apply the voice, click on the voice avatar.
Voice Style Customization
Customize the voice style to meet your specific needs. Whether you prefer a formal, casual, friendly, or authoritative tone, Murf AI provides a wide range of styles.
Speed and Pitch Adjustment
Adjust the speed and pitch of the voice to achieve the desired effect. Take control of the pace and tone to create a voiceover that perfectly aligns with your creative vision.
Generate Voiceover
With a simple click, Murf AI utilizes cutting-edge speech synthesis technology to generate your voiceover. You will receive a top-notch audio file that can be effortlessly downloaded and seamlessly integrated into your Canva project.
After your Voiceover has been generated and perfectly meets your needs, you can just click the Add to Design button to integrate it into your Canva project timeline seamlessly.
You can also find the same audio in the MyUploads section in Canva, making it easy for you to reuse it again.
---
Change Workspace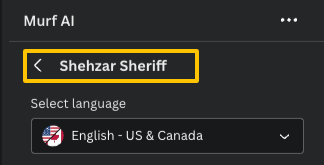 To switch to a different workspace, simply click on the back button above the language selection.
---
Sign Out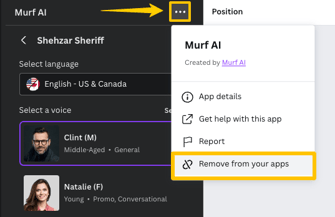 To log out of your Murf App, click on the 3 dots > Remove from your apps.