Seamlessly convert your website content into audio and video!
This feature enables users to convert website content into audio and video and easily embed the player into their site for text-to-speech publishing.
Table of Contents:


Introduction to HTML Embed
Creating an Embed Code
Customising the Player

Light and Dark Themes
Adding a Custom Title
Removing Murf Branding

Audio Player Features
Video Player Features
Deleting an Embed Code
1. Introduction to HTML Embed
The HTML Embed feature is available for all Murf plans, and it allows you to convert your website content, blogs, articles, e-books, research papers, newsletters, and guides into audio and video formats. Once converted, you can seamlessly embed the audio or video player on your website, enabling text-to-speech publishing.
2. Creating an Embed Code

To get started, follow these steps: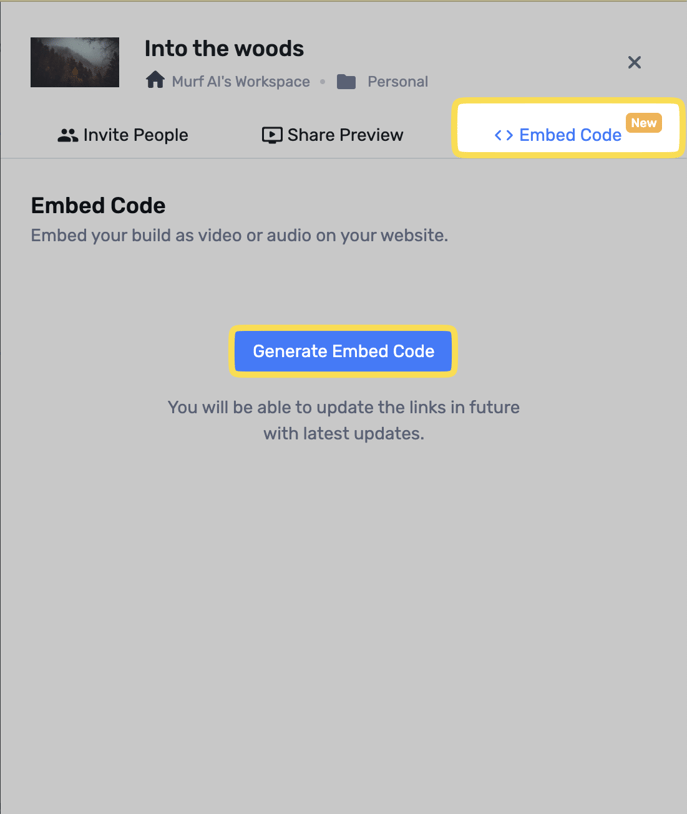 Click on the "Create Embed Code" button.
An embed code will be generated, which you can copy to your clipboard.
You can toggle between Light and Dark modes for the audio/video player.
A preview of how the player will look is provided, and you can play the audio or video using the player.
You can update the embed code at any time, and it will automatically update the audio or video with the latest output.
3. Customizing the Player
The HTML Embed feature offers several options for customising the player to suit your website's style and preferences.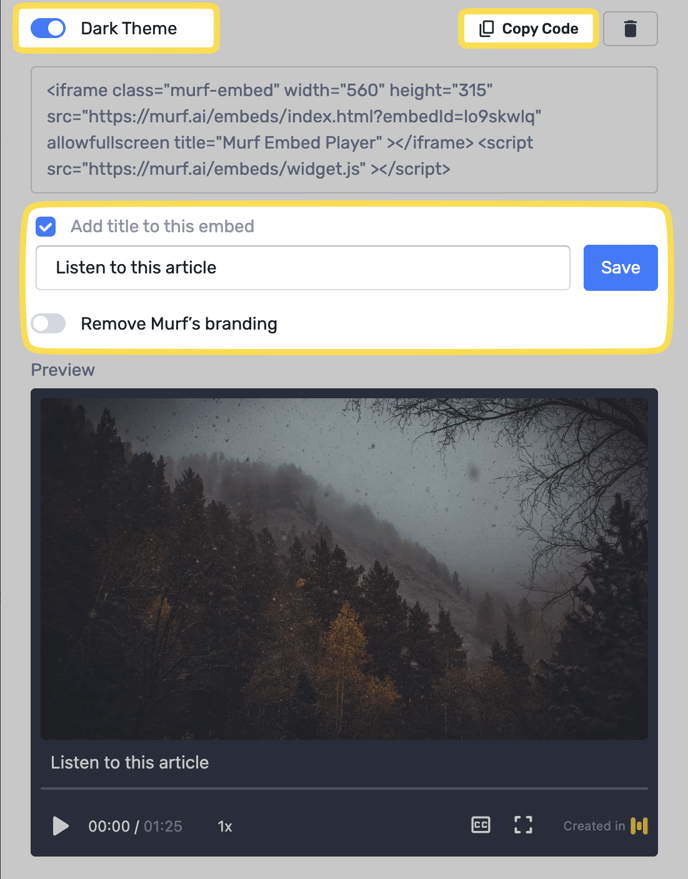 Light and Dark Themes: You can switch the player's theme between light and dark modes to seamlessly integrate with your website's design.

Adding a Custom Title: You have the option to add a custom title to the player, allowing you to provide context or a specific title for your embedded content.

Removing Murf Branding: For enterprise plans, you can choose to remove the Murf logo from the player, ensuring that your branding takes center stage.
4. Audio Player Features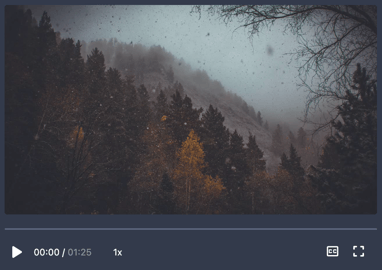 The audio player provides an immersive listening experience. It includes:
Play/Pause button.
Seek bar for navigating through the content.
Speed toggle for adjusting playback speed (0.5x, 1x, 1.25x, 1.5x, 2x)
Resizable player that adapts to the container the iframe is placed in.
5. Video Player Features
The video player offers a rich viewing experience and includes:
Play/Pause button for video playback.
Seek bar for easily navigating through the video.
Resizable player that maintains the aspect ratio for seamless integration into your website.
Option to enable or disable subtitles for better accessibility.
6. Deleting an Embed Code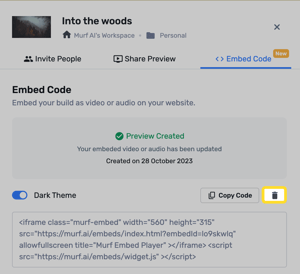 If you wish to remove the embedded content, click on the "Delete" option for the embed code.
If the code is embedded on a website, you will receive an error message that the code is in use, preventing accidental removal.
If you're subscribed to a paid plan and decide to cancel your subscription, please note that your projects will only be available for a period of 90 days. After this time, your projects will be terminated, and as a result, the HTML code will no longer be accessible. It's important to keep this in mind when managing your projects and deciding on your subscription plan.
We hope this guide helps you make the most of the HTML Embed feature for Murf. If you have any further questions or need assistance, please don't hesitate to reach out to our customer support team.